Is this your baby's first Halloween? What a fun time to dress them in fanciful baby Halloween costumes. They're so adorable in just about any outfit at this age even as they become a toddler and start romping around. Just imagine how sweet they will look in one of these cute animal costumes Halloween night.
We have a great selection of cute animal baby Halloween costumes for your little son or daughter. We have lions, tigers, and bears – oh my! Plus cute and cuddly pet costumes.
Presenting the Lovable Lion Costumes –
These lion costumes with the large manes are sure to keep baby warm Halloween night and that long curling tail is oh so adorable. Plus I just love the slipper feet or should I say paws.
Lil' Lion Baby Costume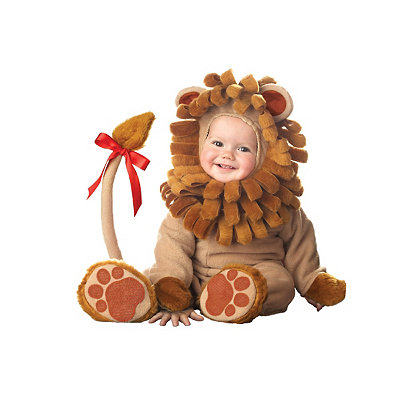 Your baby will have a roaring good time in this Lil' Leo infant costume, complete with a plush bodysuit, hood, tail, and slip-on booties. This Halloween costume will make your child the cutest hunter in the wild.
Cuddly Lion Infant Costume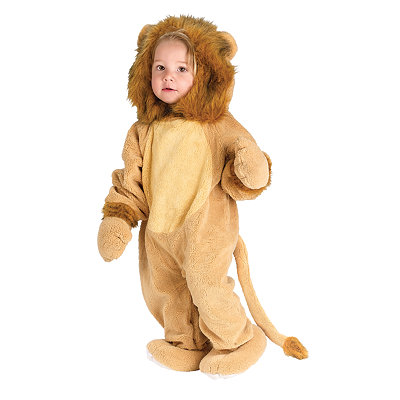 The lion is the king of the jungle with a powerful roar and a hearty appetite – could this be your little one? Cozy up to the king in this cute Cuddly Lion infant costume that will keep baby safe and warm and very cute!
Loveable Lion Baby Costume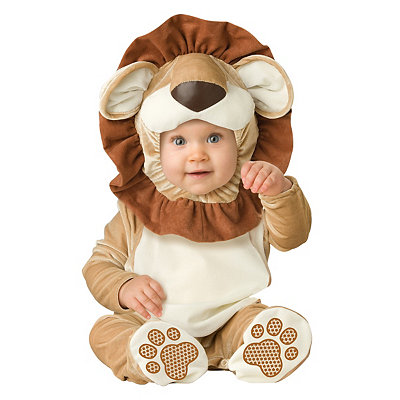 It's a jungle out there, so let your little one rule in this adorable lovable lion baby costume. The ruffled mane highlights baby's face – take pictures because you'll want to treasure this memory forever.
Little Lion Baby Costume
Your little one will feel like royalty wearing this Little Lion Baby Costume complete with furry brown jumpsuit with little pink paw feet and lion's mane headpiece with ears.
Cuddly Cub Baby Costume
He'll be a natural born leader in this Cuddly Cub Baby Costume complete with animal bodysuit with tail and lion's mane headpiece with cute little ears!
Wizard of Oz Cowardly Lion
Have no fear – this cozy Wizard of Oz Cowardly Lion toddler romper costume is everyone's favorite! Follow the yellow brick road to fun in this classic costume and step it up when you dress as Dorothy!
 Presenting the Trendy Tiger Costumes –
These tiger costumes are perfect for infants only able to crawl about and for toddlers ready to romp around. Most costumes snap on for easy diaper changes too.
Tiny Tiger Infant Costume
Have a roaring good time when you dress your little one in this classic Tiny Tiger infant costume and prowl the neighborhood. Take pictures to remember – this costume is priceless!
Tiger Tot Baby Costume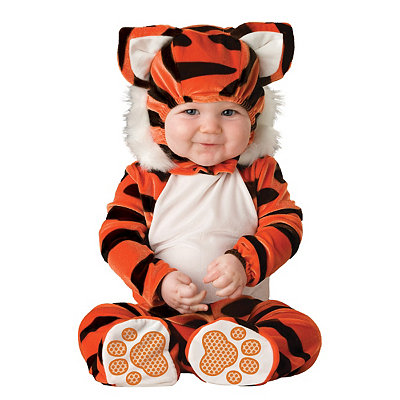 Let your little one growl and prowl on Halloween in this darling Tiger Tot baby costume – adorable orange and black animal print suit with furry white hair and eared hood.
White Tiger Infant Costume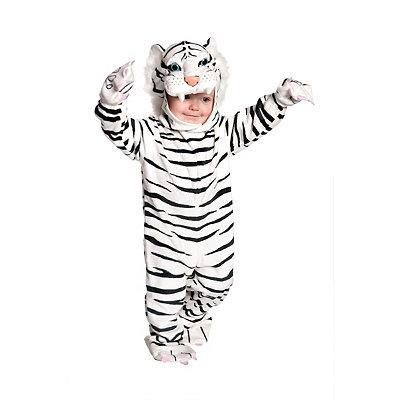 Be one of the most unique animals in the kingdom in the White Tiger Infant Costume. This white jumpsuit features black stripes, large paw-like mitts and a hood resembling a tiger head with stunning blue eyes and teeth.
Presenting the Buddy Bear Costumes –
One unisex costume in the animal kingdom is a baby bear costume. You can get specific types of bears, like koalas, panda bears, and polar bears.
Lil Teddy Bear Baby Costume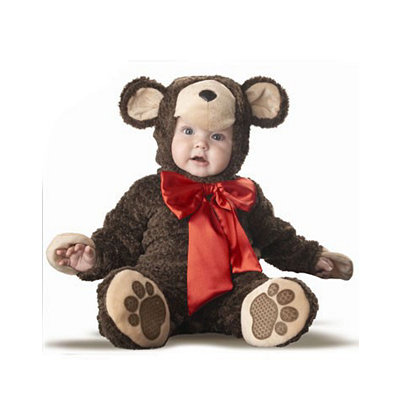 >Dress up your sweet-as-honey baby in this adorable Lil Teddy Bear Baby costume featuring a fur jumpsuit with a soft brown body, big red bow and attached headpiece, making your little one even more huggable and lovable.
Cuddly Bear Infant Costume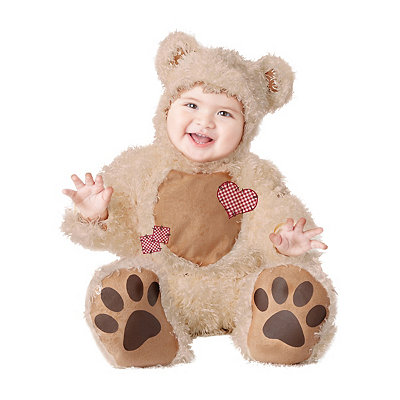 So snugly we can bear-ly stand it! The Cuddly Bear Infant Costume will have your little one wrapped in a fuzzy, light brown jumpsuit with checkered patch details, and a matching hood with bear ears.
Presenting the Perfect Pet Costumes –
Puppy dogs are a sweet idea for a baby costume. You can find regular dog costumes, like a brown puppy or pink poodle, or you can go with a special breed like the Dalmatian or St. Bernard. Maybe your daughter would love to purr like a kitten, we have kitten costumes too.
Precious Puppy Infant Costume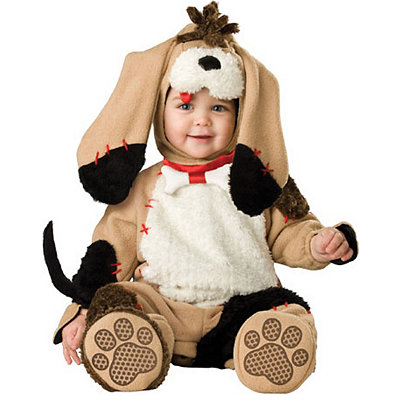 There's nothing much cuter than a puppy and your little pup in  this Precious Puppy infant bodysuit costume. Check out the cute bone detail at the collar and those adorable paw prints! Also available in toddler sizes.
Puppy Love Baby Costume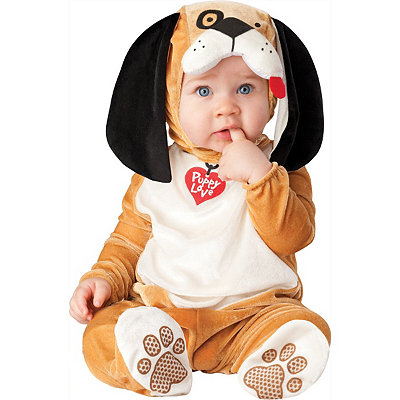 Dress your little one in this cozy jumpsuit and hood then go for a walk or trick or treating and you'll break hearts at every house on the route. Get the camera because this costume will make memories you'll want to preserve forever.
Precious Pink Poodle Baby Costume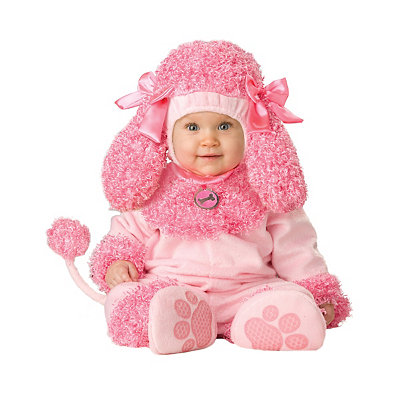 This Precious Pink Poodle baby costume is Paws-itively darling! Sugary pink and soft as can be, baby will be sitting pretty in this sweet costume that also includes slip-on paw print booties.
Be sure to take a look at our other Baby and Toddler Halloween Costume Ideas –
Bugs and Birds Costumes
Cute Animal Costumes
Dinosaurs and Monster Costumes
Fun Food Costumes
Monkeys and More Costumes
Sea Creatures Costumes
Super Hero Costumes