When looking over the terrific Halloween costume choices for babies and infants there is one creature that stands apart from all others – the dangerously darling  Dinosaur. That is why we've given them a page almost their own, almost because they share it with a few cuddly cute monsters.
Presenting the Dinosaur Costumes –
Dinosaurs may be extinct, but not in the costume world. They have a ton of choices – from fierce T-Rexes to fun triceratops. And even though they're not real, you might find a dragon costume that you like even better than a typical dinosaur!
Dinky Dino Baby Costume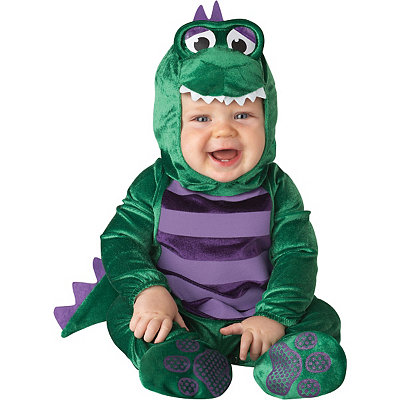 Go pre-historic when you dress your little one in this cute as can be purple and green Dinky Dino Baby costume with snaps for easy diaper changes and skid-resistant feet. Even more cute when you dress like a cave man or cave woman.
Triceratops Green Infant Costume

Have fun with this fanciful and colorful tiny tyke Triceratops dinosaur baby costume with horned headdress and all. Body suit has feet attached but the paws are mittens.
 Cuddlee Dragonsaurus
This costume is very cute and will garner tons of compliments on Halloween. It is for sure unique and well made, but sizes run small.

Presenting the cuddly cute monsters –
Your tiny tot will be far from scary in a monster baby or toddler costume, these are sure to bring smiles from everyone including your little monster.
Pinky Winky Monster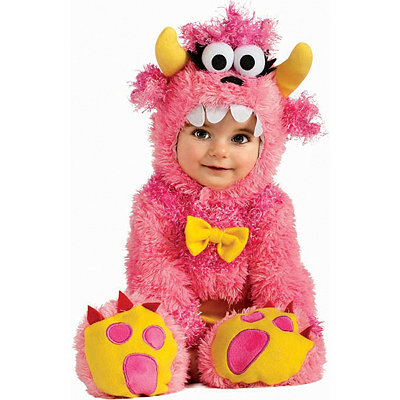 Most times your little one is a bundle of joy, but there can be times when they're a little monster. This adorable pink monster will be a sure fire hit on Halloween.
Teeny Meanie Monster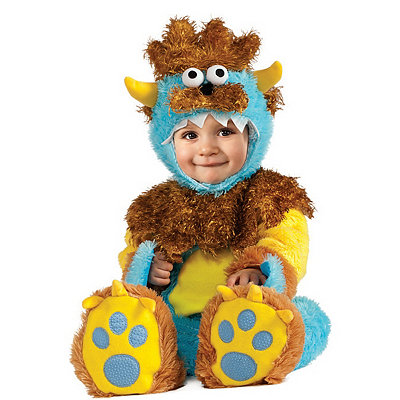 This little monster couldn't be mean if he tried. Teeny Meanie Monster Baby Costume includes colorful fuzzy jumpsuit and monster face head piece making your tiny tot one cuddly beast!
Monster Madness Toddler Costume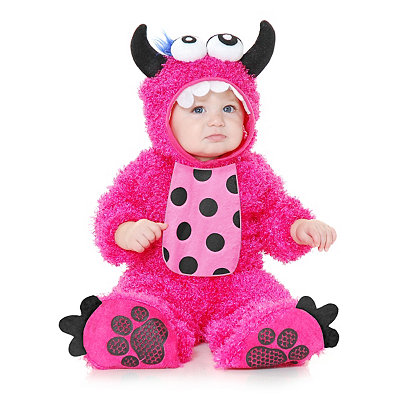 Go crazy with your little one this Halloween when you dress them in this insanely adorable Monster Madness Toddler Costume. Pink plush polyester jumpsuit features a headpiece with eyes and horns, complete with matching footies! It's so cute, it's scary!
Lil Monster Baby Costume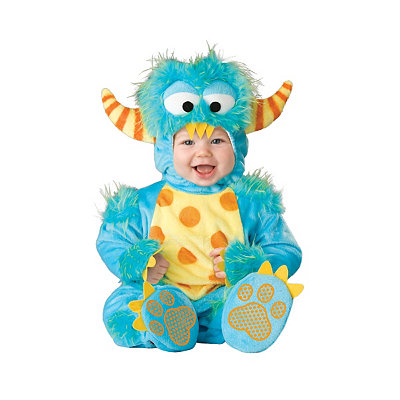 Dress your little one in this clever and cute Lil Monster baby costume for a memorable Halloween and don't forget the camera! Now of course you'll want to be sure and point out the resemblance to Daddy's side of the family… Also available in toddler sizes
Boris the Monster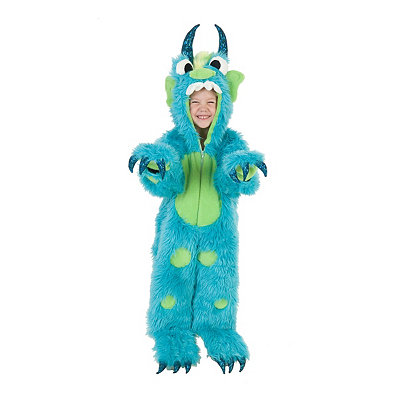 What's teal and green and cute all over – it must be Boris the Monster! Dress your little monster in this adorable zipper front character costume this Halloween and they will never forget.
Monster Boo Baby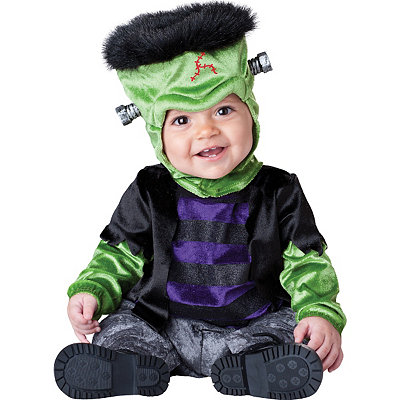 Your little monster will be cute as can be in this adorable Frankenstein Monster Boo costume. The clever snap crotch jumpsuit makes for easy diaper changes; the hood features a plush tuft of hair, graphic scar and attached vinyl bolts.
Purple Boo Monster Baby Costume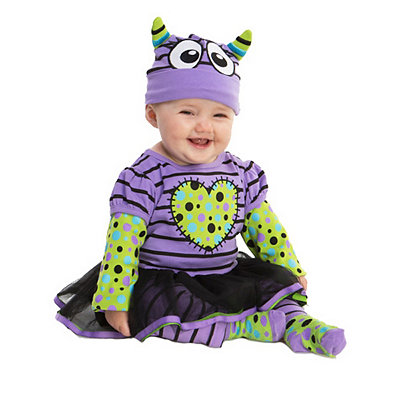 It'll be difficult to scare anyone when your little one is looking so cute in this Purple Boo Monster Baby Costume. Purple, green and black coverall features a black skirt with purple trim and comes complete with a monster headpiece and matching socks.
 Darling Dragon Baby Costume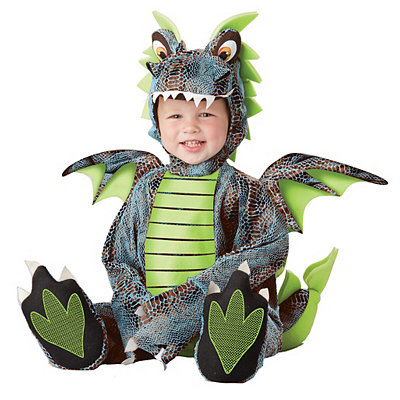 Being Mom to a fire breathing dragon can't be an easy job, but it will be ever so fun with baby dressed in this Darling Dragon Baby Costume.
Lil Devil Infant Costume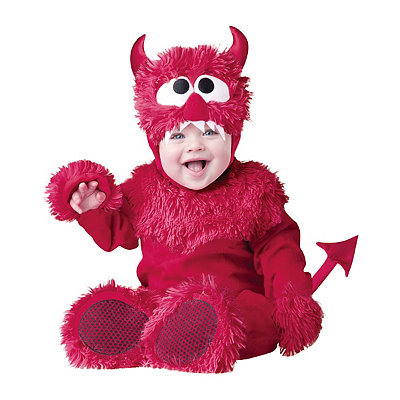 Show off your baby's devilish good looks in the Lil Devil Infant Costume. This fuzzy, red jumpsuit features soft white teeth detail at the head opening, along with googly eyes on top of the head and a horned hood.
Pinkie Winkie Monster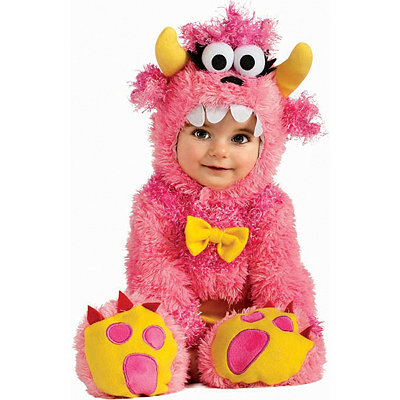 They'll eat up this adorable Pinky Winky infant's monster costume so be sure to take pictures of your little one on Halloween. The infant's Pinky Winky monster costume consists of a pink and yellow character romper, headpiece, and attached booties
Count Cutie Baby Costume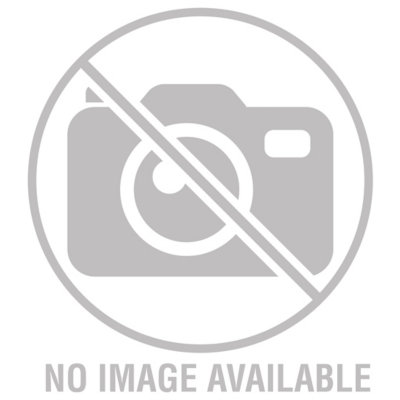 Jumpsuit with high collared vest, white blouse, bat pendant and detachable cape will make everyone a victim of adoration. Count Cutie Baby Costume includes: Jumpsuit with detachable cape and snaps for easy diaper changes
Be sure to take a look at our other Baby and Toddler Halloween Costume Ideas –
Bugs and Birds Costumes
Cute Animal Costumes
Dinosaurs and Monster Costumes
Fun Food Costumes
Monkeys and More Costumes
Sea Creatures Costumes
Super Hero Costumes