There are so many costumes to choose from for the little ones that looking over the choices is almost as much fun as seeing them wear their cute little outfits. But decide you must so let's take a look at a few more Halloween costume ideas.
Presenting the Ferocious and Friendly Animal Costumes –
Babies can tame even the most ferocious of animals in these cute costumes for a fun Halloween night. We have baby giraffe outfits, smile-grabbing cows, monkeys, and little bunny rabbits. You can find pink pigs, soft lambs, little ducks, and even ferocious crocodiles!
Giraffe Baby Costume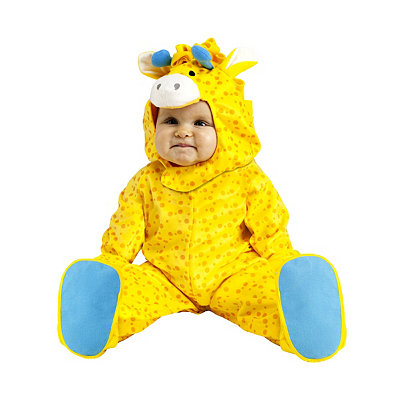 This baby may just be starting to crawl, but they'll stand tall in the Giraffe Baby Costume. Your little one will be everyone's favorite zoo animal in this comfy yellow jumpsuit with giraffe hood.
Rompin Roo Baby Costume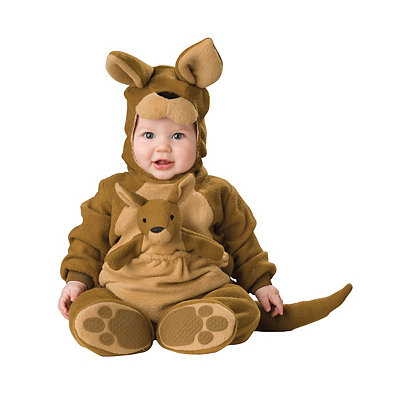 >Your little romper will be hopping all over when you journey down under in this Rompin Roo baby costume. This brown and tan, 100% polyester lined, zippered jumpsuit with joey pouch and attached kangaroo tail comes complete with a hood with ears, a joey puppet, and slip-on paw-print booties.
Pepe the Little Skunk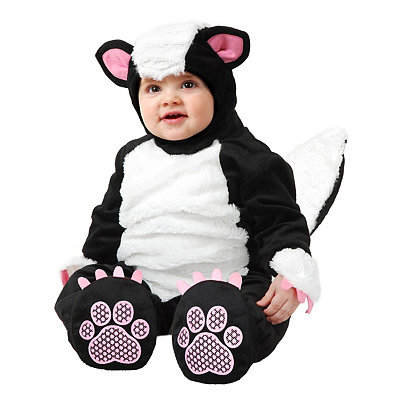 Dress your little stinker in this Pepe the Little Skunk Baby Costume complete with furry animal jumpsuit with pink polka dot feet and headpiece with pink ears and hair.
Goofy Gator Baby Costume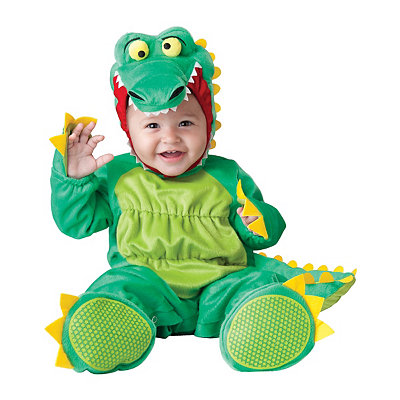 There's nothing to fear from this scaly little creature when you dress your precious one in this Goofy Gator Baby Costume with zipper lined jumpsuit with snaps for easy diaper change, attached spiked tail, hood with animal additions, and slip on hooves.T
Huggable Hippo Baby Costume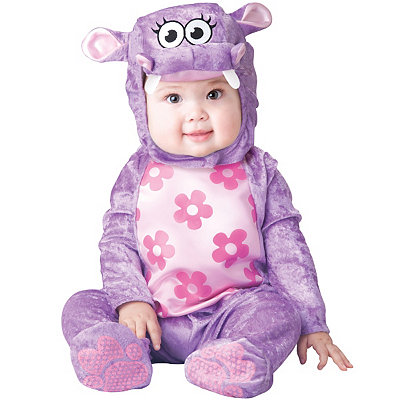 Embrace your itty bitty soft purple animal in this Huggable Hippo Baby Costume. Faux velvet purple jumpsuit with floral tummy and character hood gives your little angel a hip new makeover from ears to tootsies.
Pink Elephant Baby Costume
Your little one will be in the pink in this cute and clever Pink Elephant baby costume with an adorable hood with giant ears, tiny hat and attached trunk.
Cozy Cow Baby Costume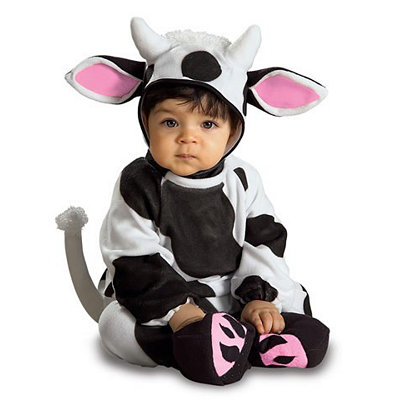 Dress your little one in this charming black and white cow costume complete with cow bell and milk it – they'll all want pictures and you'll get all the treats! The cozy costume is comfortable and easy to wear; features a Velcro closure.
Penguin Infant Costume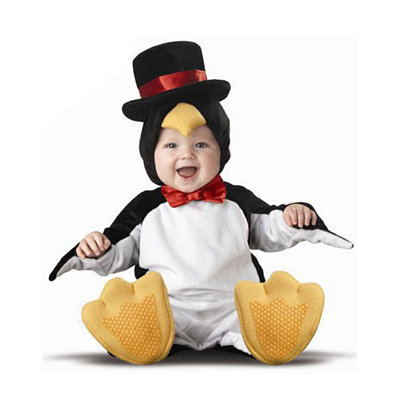 Look at the little Emperor in his sleek little tuxedo in this Lil' Penguin Infant Costume! He may not be old enough to waddle yet, but he sure is looking dapper in this baby costume, complete with lined bodysuit with wing shaped sleeves, bow tie, snap up legs for diaper change, lined character detailed hood, removable hat, and slip-on footsie slippers with skid resistant bottom sole.
Bunny Baby Costume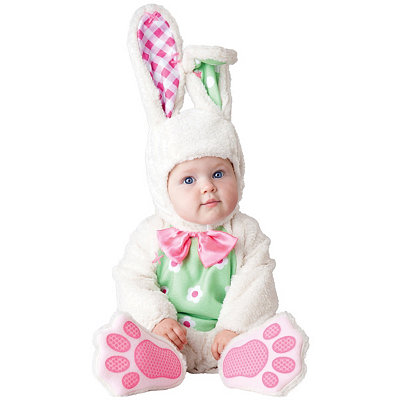 Dress your hunny like a bunny in this Bunny Baby Costume! Mismatched patterned ears are attached to fuzzy headpiece while matching jumpsuit will leave your sweetheart cute and comfy on Halloween.
Gorilla Baby Costume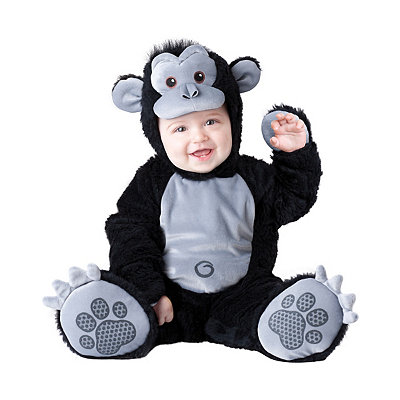 Your little one may swing all over the furniture in this Gorilla Baby Costume but at least he'll look cute. Furry animal jumpsuit with banana muscle chest detail comes with matching hood with mouth and ears so he'll be ready to climb all over mommy.
Lil Pink Pig Baby Costume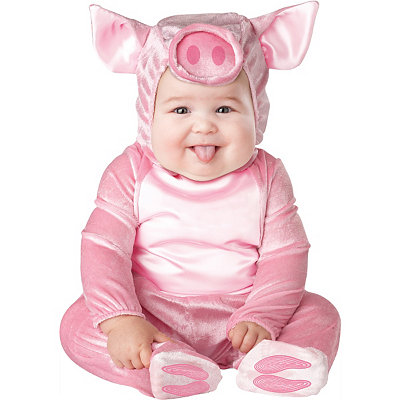 You'll not only want to take this little piggy to the market, you'll smile all the way home! Take your little one out and about and then back home in this darling Lil Pink Pig baby costume.
Mischievous Monkey Baby Costume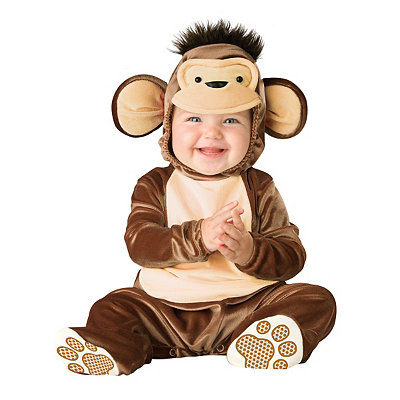 Monkey see, monkey do! Monkey around on Halloween in this adorable Mischievous Monkey baby costume and your little one will have more fun than a barrel of monkeys!
Playful Pony Baby Costume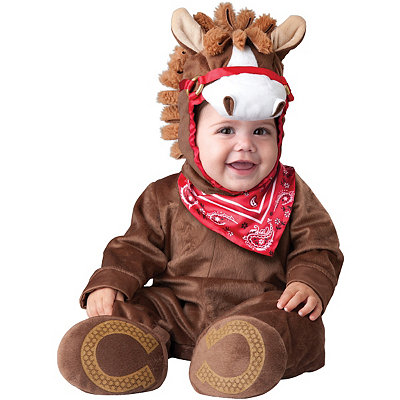 Your little colt will be the life of the Halloween party in this Playful Pony Baby Costume with a zipper lined jumpsuit with attached bandana and hood with nose, ears and muzzle.
Lil Froggy Baby Costume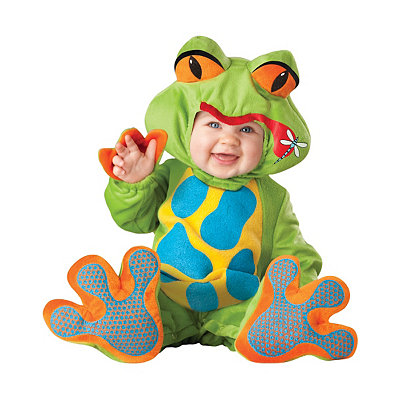 Dress your little one in this adorable Lil Froggy baby costume and enjoy the ribbitting croaks and compliments. This cute costume features leg snaps for easy diaper changes and slip-on booties with skid resistant bottoms.
Lil' Elephant Infant Costume
This soft and huggable Lil' Elephant baby costume comes complete with quick change snaps, fold-over paw flaps, attached tail, hood with attached trunk, tusks and ears, and slip-on booties with skid resistant bottoms. For a great combo costume, add the King of the Jungle in the Lil' Lion Infant Costume.
Baby Fox Infant Costume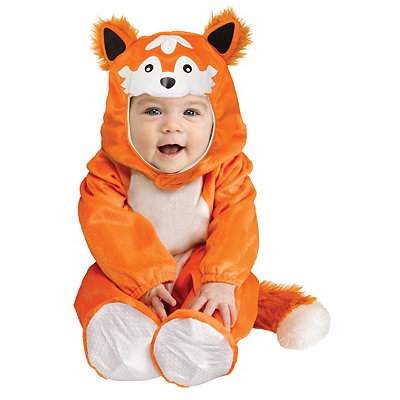 This orange jumpsuit features a light belly that matches the tip of the plush tail, and also has plush orange ears! The adorable white fox face hood has a Velcro closure for under your baby's chin.
Baby Raccoon Infant Costume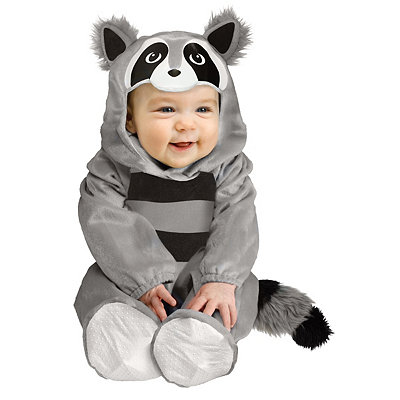 This Baby Raccoon Infant Costume is the perfect outfit for a nocturnal little boy or girl! They'll look adorable in this gray jumpsuit with black stripes on the tummy that match those on the fluffy tail. The hood features a little raccoon face and pointed plush ears.
Be sure to take a look at our other Baby and Toddler Halloween Costume Ideas –
Bugs and Birds Costumes
Cute Animal Costumes
Dinosaurs and Monster Costumes
Fun Food Costumes
Monkeys and More Costumes
Sea Creatures Costumes
Super Hero Costumes