Guys look forward to dressing in costume each Halloween just like the gals and kids so of course we have him covered her too. Does your guy like the classic Halloween costumes that can be scary, ordinary, or even cute and cuddly? Or is he more of the super hero type, maybe Spiderman, Ironman, or Captain America.
We have Halloween costumes for men to cover every taste, from swashbuckling pirate costumes, sexy men in uniform, to super heroes, vampires, gamers, and nerds.
Comic Book Party Suit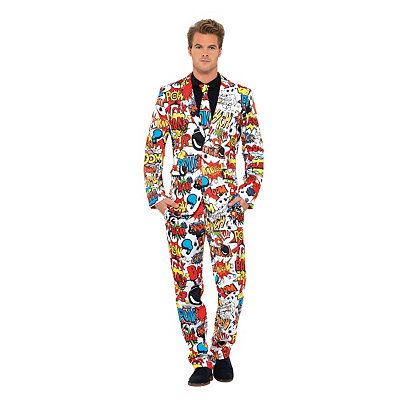 Bamm! Whack! Pow! Stand out in this one of a kind amazing Comic Book Party Suit. This incredible three-piece suit comes complete with pants, jacket and matching tie, so show off your comic book fascination in style.
Captain America Muscle Jumpsuit Costume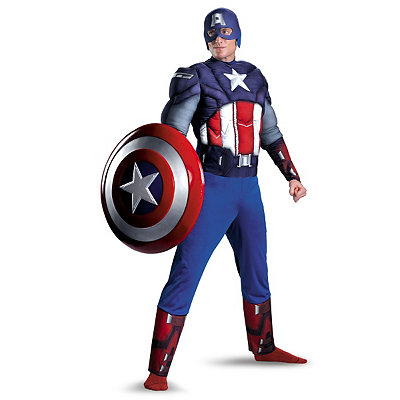 Team up with Falcon this Halloween and keep the neighborhood safe when you wear the officially licensed Captain America Muscle Costume. This blue and white jumpsuit features muscle torso and arms along with authentic details and a character mask.
Spiderman Bodysuit Men's Costume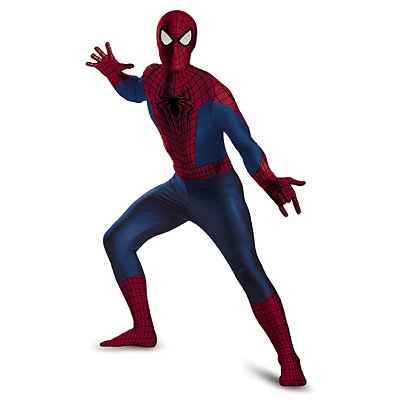 All the gals will line up to get a kiss when you hang upside down from above. Fling your web wherever you need to in order to have a safe and fun Halloween wearing the officially licensed Spiderman Bodysuit Costume. This red, blue and black bodysuit features authentic character details.
Killer Clown Mens Plus Size Costume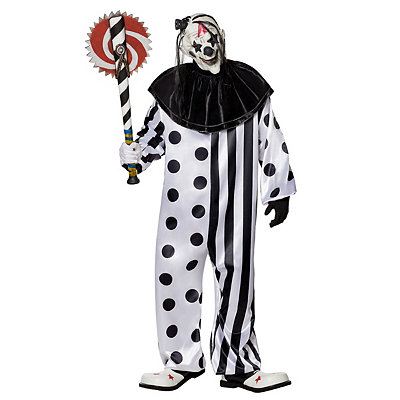 Wanna spook the crowd this Halloween? You may just spook yourself in this Killer Clown Plus Size costume. This black and white jumpsuit features stripe and polka dot details with an attached collar, complete with a mask and attached hat sure to do the trick.
Police Officer Deluxe Men's Costume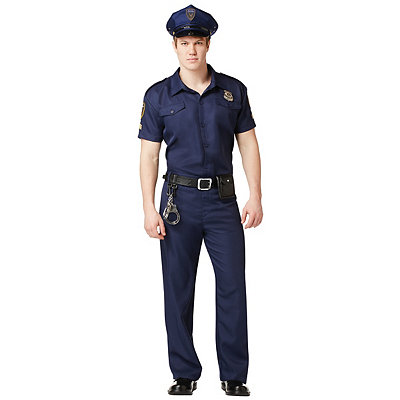 Keep order in the streets when you serve and protect on Halloween in the Police Officer Deluxe Men's Costume. You may even find women suddenly find you irresistible in this outfit with navy blue shirt complete with a metal badge, matching pants, belt and naturally a matching hat.
Game of Thrones Jon Snow Costume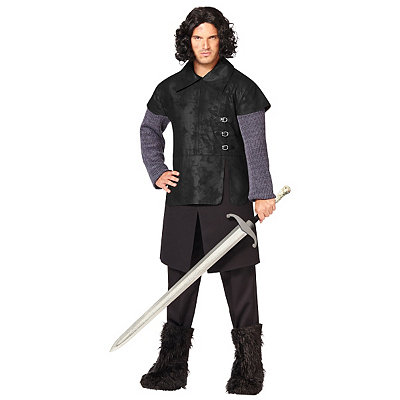 Lead the Brothers of the Night's Watch on Halloween when you wear this Game of Thrones Jon Snow Men's Costume. This official HBO licensed product includes an authentic looking thick faux suede shirt with pleather buckles and a luxurious knit grey tunic under-layer, which allows you to take on both human enemies and the White Walkers.
Fill 'Er Up Fireman Costume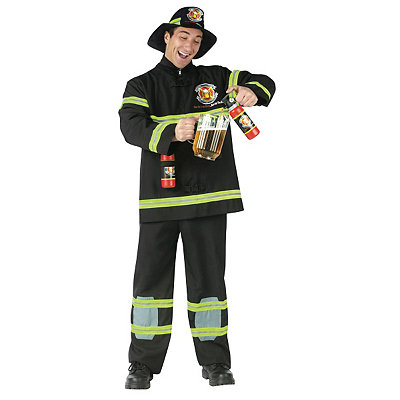 The girls will be chasing you – quench their thirst and ignite their passions in this fun Filler Up Fireman adult men's costume. They love a man in a uniform, plus you can fill the two beverage holders styled as fire extinguishers with the firewater of your choice!