Young girls love to dress up as their favorite princess, movie star, singer, superhero, wicked witch, or Gothic queen. Actually they love it so much you know they'll be asking to wear their cute little fancy dress costumes year around for pretend time fun. How many times did she beg to wear last year's Halloween costume throughout the year? Did she want to wear it for the school picture?
There's nothing wrong with that, it's more bang for your buck! Grab a favorite costume for your daughter or granddaughter shown below as we have this year's featured costumes, all-time favorites and classics, and yes even zombies, vampires, witches, and more.
Presenting the Halloween Costumes for Girls
Elsa Prestige Child Dress

Freeze them in their tracks in the Officially Licensed Elsa Prestige Child Dress. Everyone will start singing Let It Go when they see you as Princess Elsa. Features shiny, icy blue dress with sequin
Descendants Mal Deluxe Girls Costume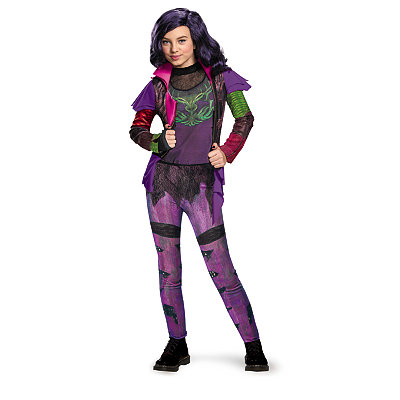 Prepare to cast a spell and steal the Fairy Godmother's wand in this officially licensed Descendants Mal Deluxe Girl's Costume! Plan out all your evil duties in this colorful jacket with pink collar, graphic top featuring a fierce fire-breathing dragon and mesh neckline, shredded pants with black accents, and one black glovette
Nerd Alert Girls Costume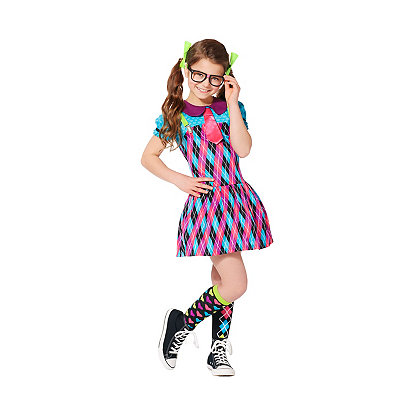 Show off your dorky side in the Nerd Alert Girls Costume. This mix-matched printed dress is brightly colored with a hot pink necktie detail. Add black glasses (sold separately) to take this look from nerd chic to plain old nerdy.
Pirate Captain Tween Costume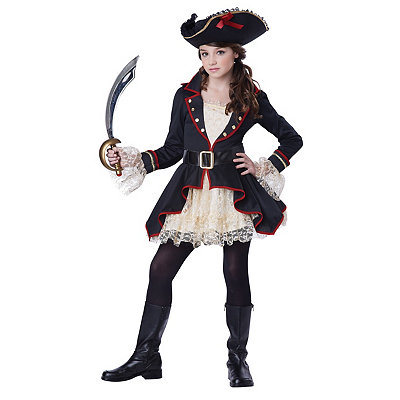 You'll be a pretty and powerful pirate in this lacey white dress with matching sleeve cuffs, which is under a navy asymmetrical coat trimmed in a fierce red. The pirate's cap has a matching red bow and gold details that will let everyone know who is in charge of the high seas.

Killer Clown Girls Costume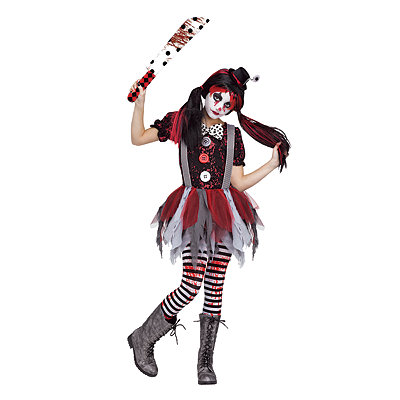 Look killer and cute in this dress with a unique red and black pattern top featuring big center buttons and a bow tie. The dress also has suspenders attached to a shredded red and gray tutu skirt, as well as striped tights with your latest victim's blood.
Black Cat Child Costume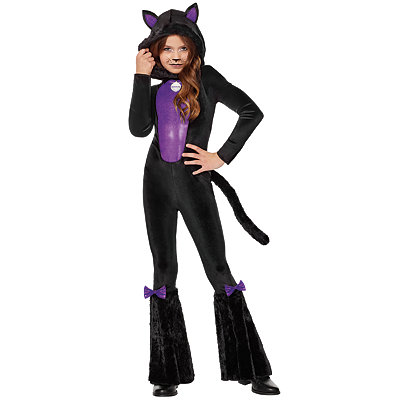 Live the simple life of a kitten on Halloween when you wear this Black Cat Child Costume complete with soft fur jumpsuit with attached tail, eared hood and bow tie.