When the werewolves are howling, the witches are brewing, the zombies are moaning, and skeleton bones are creeping – don't be surprised if things get a little bit spooky. At least they will be when you make your home and front yard the envy of the neighborhood with any of these fun outdoor Halloween decorations.
Animated Halloween decorations can be the startling boo in your face variety or you can go with the sinisterly quiet that appear to stare at you or make murmuring noises to spook the trick or treaters.
The large air blown figures and decorations are a super way to add some Halloween Simply Spooktacular fun with little effort. Select from our Smiling Jack-O-Lanterns, Ghostly Trees, or Motorcycle Riding Grim Reaper. They're all made to handle the rainy and sometimes blustery autumn weather just be sure to tether them well to the ground.
4 Foot Halloween Inflatable 3 Jack-O-Lanterns Yard Art Decoration
With self-inflating design, this Inflatable will be presented in front of your friends and family in seconds. When lit it is the perfect nighttime decoration. Worried about storage? Simply let the air out and fold it!
8′ Tall Inflatable Dead Tree w/ Ghost on Top/ Pumpkins on Bottom
This impressive Halloween tree has a fan underneath it and is sturdy enough to handle the rain, wind, snow, and more. Sure to be the delight of the family and the entire neighborhood. Easy to set up, take down, and is very bright and well lit
 4' Halloween Inflatable Grim Reaper Yard Decoration
Good for the money. The bottom of this outdoor Halloween decoration is a bit rounded so it doesn't sit flat to the ground – but that gives it wobbly charm. Self-inflating, easy to set up, and store.
7 Foot Long Halloween Inflatable Grim Reaper on Motorcycle
Kids absolutely love this rare awesome grim reaper on a motorcycle! For a surprising moving effect – tether only the back and set a fog machine behind it – when the wind blows it appears to be doing a wheelie. Don't be surprised if the passer-bys stop to take pictures.
8.5
'
Halloween Inflatable Haunted House Castle with Skeleton, Ghost & Skulls
Enter if you dare. This is the perfect yard decoration to lure Halloween visitors. Add a witch's cauldron, fog machine, and some eerie haunting tunes for a complete scene.
Animated Wobbling Witch Inflatable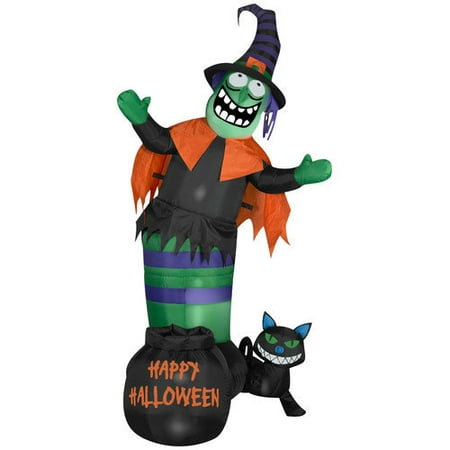 Light the way to your haunted house on Halloween with the Animated Wobbling Witch Inflatable. This wacky wobbly witch dances side-to-side, lights up and self-inflates.
Pumpkin Carriage Airblown Inflatable
Your chariot has arrived to pick up the unsuspecting in this 180" horse drawn pumpkin carriage
THERE'S MORE – CLICK PAGE 2
Pages: 1 2